I don't envy the United Airlines comms teams at the moment. Following scandals about mistreated passengers, a dead dog and a(nother) dog delivered to the wrong destination, the company is now facing another serious conflict with passengers – over tomato juice! To streamline its service offer for flights under 4 hours, United eliminated Sprite Zero, Jim Beam Whiskey and a few other alcoholic beverages from its menu. While these losses didn't receive a lot of attention, the elimination of tomato juice caused an uproar on social media, with hundreds of passengers complaining and expressing disbelief.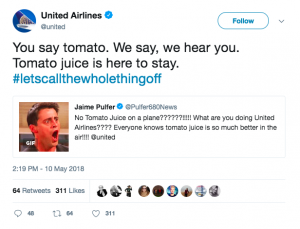 Competitors were quick to react, too: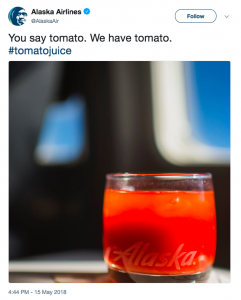 And eventually, United quickly reversed the decision and announced that tomato juice would remain on the menu (unlike Sprite Zero or Jim Beam).
You say tomato. We say, we hear you. Tomato juice is here to stay. #letscallthewholethingoff https://t.co/R6QskrYE8i

— United Airlines (@united) May 10, 2018