Some of my daily communications work involves simple designs for infographics, flyers and graphics for videos. As I simply have too much on my plate to turn to my Adobe Illustrator or Indesign for every these fairly straight-forward designs, I have started using Canva as my and my team's main to-go-to design platform. Canva is amazing as it lets you build powerful designs in just minutes. It stores all your necessary corporate identity elements including colour palettes and fonts in simple-to-use brand kits. I rarely spend more than a couple of minutes to produce a new graphic for a blog post or facebook message and can keep designing posters and brochures for some of my volunteer activities manageable. Canva does a lot for you in the free version, but I have upgraded to the professional one quite a while ago already – with a few extra features that make it easier to routinely work on some design stuff. In simple words: Canva has boosted my productivity by keeping it simple and to just what I need.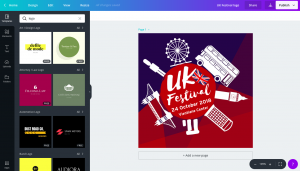 Canva has also introduced its own logo-maker, which adapts its interface and elements to simple square logo designs. I have tested a few other logo makers a while ago, but looking back at what I wrote two years ago I must admit that today nothing beats the simplicity yet richness of the Canva platform! As for all its other formats, Canva offers you a huge selection of templates for logos. I didn't really find something that struck me right away for my purpose of creating a festival logo – but it certainly is a box full of inspiration and at least helps you to develop some thoughts on what type of logo you are actually looking for. It then gives you access to Canva's large amount of illustrations and pictures and you can integrate these easily into your logo. In my case, I used a few icons from the illustrations database as well as a background template. The best thing is that I can apply my pre-set brand colours with only two clicks, and I can use my stored brand so that the design quickly is in line with the required corporate identity. So it took me about 30 minutes to get from a white empty square to a logo I was happy with: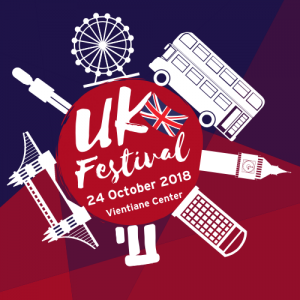 And it took me another 15 minutes to develop this logo into a first poster draft that I could present to some of the intended partners for the event. Nothing that would be picture-perfect, but just what I need to communicate to stakeholders that we are on top of the preparations and something impressive enough to convince them to support the event.
I admit that a logo is still different from a normal communications tool such as a brochure or poster. So for a more sophisticated task or more complex products I would most certainly turn to an agency for logo design, as I truly believe in solid research and in-depth testing of different logo options. But if you have a good idea of what you are looking for (for example when you already have a corporate identity in place and just need to develop this further or create a substitute product), or simply can't afford to pay a designer – Canva is my number one recommendation! Canva takes only a few minutes to understand and get used to, and with its templates and all-but-essential features will help you design something absolutely usable.