As my summer break is now over, I'm trying to find some time to highlight some of my corporate communication discoveries over the summer. One of the pieces certainly worth sharing is a recent study by researchers from Tulane University that looks at the relationship between a CEO's language and word choice in earnings calls and investor attitude / investment decisions stock performance. The research involved an experimental part, in which a voice actor simulated earnings calls varying in the use of self-inclusive ('I', 'We') and non self-inclusive ('the company') language. For example:
As (I/we/Webtex's managers) look ahead to the next quarter, (I am/we are/ management is) very optimistic about Webtex's future.
About than 500 listeners were then surveyed for their impressions and likely investment reaction (given a hypothetical investment budget of $10,000). The analysis showed that (would-be) investors left with a more positive impression (regardless of the company's results) personal pronouns ('I', 'we', 'my', 'ours) were used and that subsequent investment decisions were more positive in scenarios with such self-inclusive language.
Observed likelihood to invest: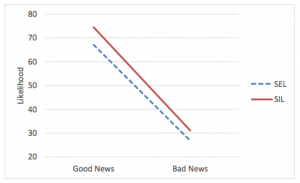 The team in addition ran a computer-based textual analysis of 50,000 real-life earnings-call transcripts, finding that indeed real-life market reactions to self-inclusive language were consistent with their experiment's results.
The findings suggest that the use of pronouns in executive communication signals has effects on investors subconsciousness by not only signaling a more confident CEO and general management (who seems to be driving things – both in the past and future), but that self-inclusive language also decreases the perceived distance between managers and investors as it makes the announcement more personal, authentic and accessible.