Just a few days ago Kelly and Ben Decker published an excellent article over at HBR.org on how to best communicate with employees in order to motivate them. They see the main challenge to motivate an employees is shifting his typical response to work from "I have to" to "I want to." According to their reasoning we have to strategically design a message  in terms of its emotional connection to the target audience and in terms of its self-centered vs audience-centered content: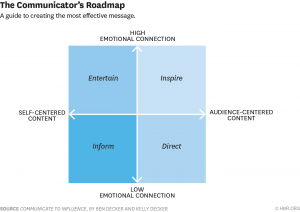 This basically leaves us with four types of message strategies. The authors call them: Inform, Entertain, Direct and Inspire. Each of these message types is suitable for particular situations and we as communicators (and managers in general) have to really identify what message type suits a given context. Kelly and Ben Decker particularly stress the importance of the "Inspire" category as it really is key to motivating employees – individuals and teams alike.
For more details check out their article at https://hbr.org/2015/05/how-to-get-employees-excited-to-do-their-work.