Carl Icahn is an investment legend and has certainly made it into several CEOs' nightmares. While we are usually talking about "Financial Communication" in terms of how to best communicate with the financial industry and investment community, Icahn is an extreme example of the plentiful challenges for financial communicators. He frequently uses public communication including a dedicated online platform (Shareholders' Square Table) and his own Twitter account for formulating and demanding strategic adjustments that in his opinion increase his investment value.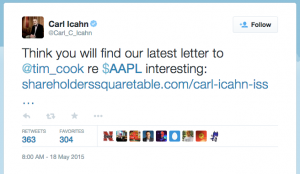 It really is worth checking out the mentioned letter to Apple CEO Tim Cook, that was published just yesterday. It includes a long-term company value forecast based on Apple pursuing new market opportunities including the television and electric car market.
And if you are now saying that probably Icahn is just one investor and probably companies don't care too much about his strategic thoughts, you are completely off-track. While he does not even hold so many actual shares in the companies that he invests in (53 million shares, meaning less than 1% of Apple Inc), he has significant influence on the investment landscape. For example Apple stock rose by 8% just in the day that the above letter was published. Also he was the driving force behind Apple's recent share rebuy program (worth $50b) and the one that convinced Ebay Inc to spin-off PayPal.