Accounting and consulting firm PwC benefitted 83 years from reliably handling the balloting process at the Academy Awards. On Sunday they jeopardized this reputation within minutes, because of a colossal mistake at the 89th Academy Awards when actors Faye Dunaway and Warren Beatty wrongly announced the top Oscar went to "La La Land," instead of "Moonlight."
As it turned out, the presenters had been given the wrong envelope by PwC partners whose job it was to manage the announcements and step in in case of irregularities. Apparently these PwC representatives even had to know all winner names and categories by heart – to make sure, nothing can happen.
If such a colossal mistake happens at the Oscars – the whole world knows about it in moments. And as could be expected, within minutes social media was full of jokes and shame. Obviously, for London-headquartered PwC it is anything but funny.
Reputation challenges such as BP's Deepwater Horizon oil spill disaster and the Volkswagen's "dieselgate", have shown how small events or decisions can have major and long-lasting impact. As a matter of fairness it needs to be noted though, that  while everyone is talking about it now, the Oscars disaster didn't result in any fatalities or sever environmental damage – the major damage really was PwC's reputation (and a couple of directors' and actors' nerves).
But these cases also offer some learning. Basically, PwC has no other option than to front-up immediately and explain exactly what happened to at least contain the damage to its reputation. Once it is completely aware of the circumstances it needs to draft a proper apology and devise a strategy on how it would avoid similar mistakes in the future (which I guess might not be too difficult, as proper training and instructions might do the job). In any case, it would be advisable to make clear the human factor involved, especially as many people could secretly sympathize with the people on and next to the stage.
Well, let's look at the first reaction by PwCs as published on Twitter, encompassing some of the things mentioned above:
First reaction: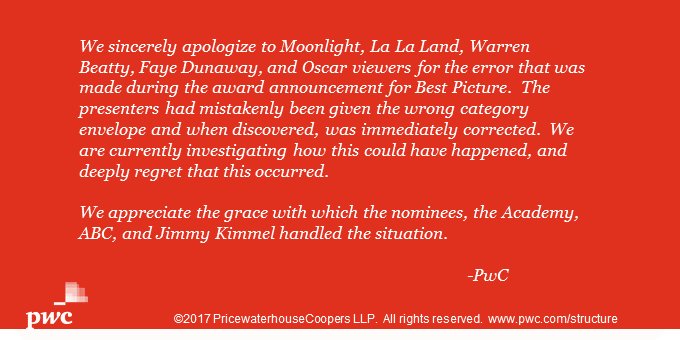 Then the details and apology: