This week I conducted an eye-opening analysis for a client organization that had asked me to assess its past corporate communication activities. It is a government institution that proves many prejudices that people have about such organizations well… right (but we're going to change this over the next three months).
There are plenty of statistical measures and indices for texts that help you as communicators to evaluate, how easy your audience can understand your texts. Such statistics are usually based on a range of simple measures such as sentence length, number of syllables per word, the number of complex words, or the number of subordinate and even passive sentences. Many of the indices then try to relate the statistics to the required reading competency of the audience in order to understand the text – that might be the number of years of formal schooling or simply the age of a typical person that could understand the text. Different indices rely on different measures, so I advice taking a look at a few of them – some of them are even available from your MS Word software.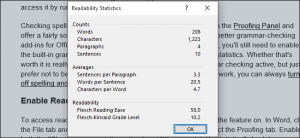 The most useful statistics in my opinion are the following two indices:
The Flesch(-Kincaid) Reading Ease – it uses sentence length and syllables and calculates an index between 0 ad 100, where a score between 90-100 would be easily understood by an 11-year-old (US student). Usually scores above 60 are acceptable for most communication work (indicating they can be understood by someone with some years of secondary education).
The Gunning's Fog Index also uses sentence length and the share of complex words (words with three syllables and more) and relates it to the required number of years in education
That all sounds quite cumbersome in calculating – but actually there are so many tools that it usually takes only a few moments to get the desired statistics. Microsoft Word even has this built-in functionality and would give you readability scores when after finishing a spell and grammar check. In addition there are several online tools that can either process a website or simply a pasted text. My two favorite ones are:
And by the way: such readability statistics are not only available to English. So most of the indices have been adapted to popular languages such as German, French, Spanish etc.
So returning to my current work with the government client: Governments are usually said to be too bureaucratic and  technical, and here communication with citizens is certainly no exception. While many companies have learned to communicate plainly and find ways to wrap their key messages in simple ways for their target groups (yes, sometimes learning this the hard way), government officials too often are neglected when it comes to communication or writing training. So the above statistics really were an eye-opener to my current client. Its press releases – which by the way are quite often published by various print media without any editing or rewriting – feature a Flesch Reading Ease score in the low 30s and some even below that. This makes them harder to understand then Shakespeare (most of his works would score around 40) and on par with the Harvard Law Review. While this might be sometimes exceptional if you really only address lawyers or professors it is certainly not satisfactory for an organizational that needs to communicate a lot with the general public.